Events in Jim Damiano's life, small ones as well as big ones, move him to express his deep feelings in poetry. He has been seen writing his poetry on programs at concerts and on cocktail napkins at family events. His art in this regard is unique in his uncanny ability to distill his experiences and passions into poetry.

We hope you enjoy the poems on this page.
In addition, several of Jim's poems have been featured as the Prayer Of The Day. The
service is free and you can subscribe by visiting www.shareaprayer.net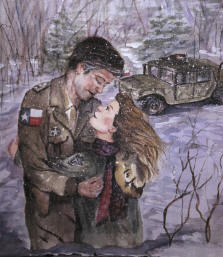 Worry
Worry, the singular word,
That strangles common sense,
Despite its warning or its reason,
It generates dispirit and cancer,
For cancer physical or of the mind,
Makes little difference in its viewpoint,
When ones brain, over loads with tremor,
Can misfire in its intended use,
To one of stress filled intolerance.
I believe one ounce of worry can sink a ship!
Two ounces can strangle a nation-
Yet, one speck of faith can overcome-
What worry has wrought-
But the mind-that inconceivable engine,
For all its actions,
Can but control worry,
And all its distractions!
By: V. R. (Jim) Damiano, Jr.
October 15, 1998
What a chore it is to allow ones mind to wander and to fall into the minefield of worry. Better to call the minefield a mind field as worry is but of our own doing. Today I catch my self-worrying over a major business deal that is now out of my control. I realize the hopelessness of the energy I have wasted in trying to resolve this concern at this moment.



Jim wrote Horizons on the occasion of his daughter Rebecca's graduation from college.
The poem is reproduced here in its entirety.